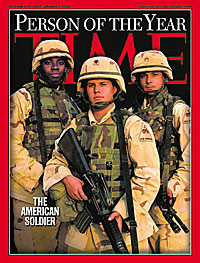 Time Magazine has chosen the American soldier as the 2003 Person of the Year.
I'll give that the House of Rapp seal of approval.
I hope they print extra copies of the issue and send 'em to the boys in Iraq. Sometimes I wonder if those who are deployed know how much support they have from everyone back home. Between email and satellite phones, you'd think there would be no doubt. But you never know how geopolitical news plays on the other side of the world.
Anyway, I bring up the Time article because my nephew Micheal just returned to the States from an extended deployment to Iraq. Don't be fooled by the "nephew" part–he's nearly my age. He's currently a loadmaster on the C-130 for the Air Force and was just promoted.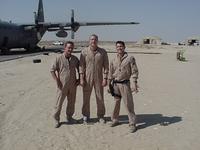 Here's a photo of Mike (far right) and fellow crewmen. I believe this was taken at Al Jabar in Kuwait, but don't quote me on that.
I'm proud of you, Mike! Congratulations, you're the Man of the Year.