One issue that keeps coming up in aviation circles is which company to go with for a new or STC upgrade propeller. In fact, someone just emailed me today asking my opinion on this issue. Her McCauley prop had been condemned and she was trying to decide between another McCauley or a Hartzell Top Prop conversion.
I guess if you're flying an experimental, you have a lot of options–Catto, Sensenich, MT Prop, Whirlwind, etc. But for those of us flying certificated aircraft behind a constant speed prop, it usually comes down to Hartzell vs. McCauley.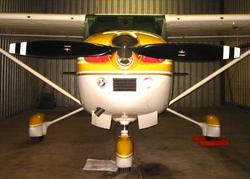 I have the original McCauley 2A34-C203 on my Skylane and it's perfectly fine. However, I made a detailed inspection of the Hartzell factory in Piqua, Ohio last summer and was extremely impressed by what I saw. The company was owned by a large conglomerate (TRW) for a while, but Jim Brown bought it from TRW and took the company private again. When I was there, the president even took the time to say hello and sit down with us to answer questions.
The Hartzell factory is very modern–everything is done on CNC machines except for some final grinding and shaping. That's done by highly experienced (and compensated) craftsman. I'm was also impressed that some very demanding folks who need top performing props always seem to choose Hartzell. Sean Tucker, Wayne Handley, NASA, Rutan, etc.
The thing that stuck with me the most about Hartzell is how much they value their employees. The average tenure of a Hartzell employee is more than 20 years, and it shows.
McCauley seems to be just the opposite. It once was an independent company that was highly regarded in the general aviation industry. But it was purchased by a large conglomerate called Textron. This is the same multi-billion dollar corporation that now owns Cessna Aircraft, Bell Helicopter, and Lycoming.
Last summer, the original plan was to visit the McCauley factory, not Hartzell. McCauley was chosen because they made most of the props on the pre-96 Cessna fleet. But shortly before we flew out to Ohio, Textron decided to move the whole McCauley plant to another location to save money. Which is perfectly fine. But Textron decided not to take any of their employees with them! So the McCauley factory is working with all new people, and the quality is an unknown. There were rumors of low morale at the company as well. The McCauley web site was out of date last year, and at the moment is not even operational.
So based on my experiences, if I needed to pick a prop right now, I would go with Hartzell. The fact that they are cheaper would make the decision that much easier for me.