What a dull week! I have nothing of consciousness-altering significance to show for the last seven days (or should that be years?) of my life. So I'll have to vamp. Creativity, don't fail me now.
Personal
Rehearsals for The Mikado started last week. This particular production comes from Australia, and it looks like it'll be a really fun show. And beautiful, too.
You must come and see it, especially if you're a Gilbert & Sullivan fan. It will be at the Orange County Performing Arts Center on November 11, 13, 15, and 16.
Does this look like me?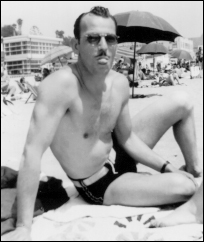 Well it's not. Although making a strange face at the camera is exactly the kind of thing I would do.
No, this is my father. This was taken on the Santa Monica beach in 1939. Yes, you read that right. Nineteen thirty-nine. For what it's worth, he was born in 1913. I was born in 1972.
Until recently I had never seen a photograph of my father from before I was born (in other words: when he had hair). I have a couple of other good ones. First, a photo of he and his first wife, Maxine, in front of their house in Burbank: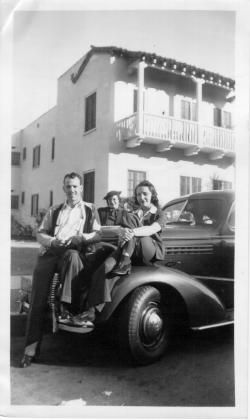 And one taken at Treasure Island in San Francisco in 1939. Doesn't he look like a gangster?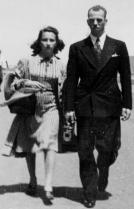 Theatre
My audition for the Classical Theatre Lab didn't pan out. Which is odd, because I feel my audition was one of the best I've ever given. Murphy's Law at work.
It's time to start gearing up for graduate school auditions. This will be my third year applying for the top MFA programs. Will this be my year? Let's hope.
And speaking of theatre, I recommend two excellent shows: Freedomland, which is receiving its world premiere at South Coast Repertory, and Hay Fever at Vanguard Theatre Ensemble. Freedomland is a black comedy about an extremely eccentric family trying to come to terms with the their past. Hay Fever is also about an eccentric family, but is more of a light comedy wherein an English family plays a never-ending series of mental games on a group of invited guests.
Heitor Villa Lobos
I'll leave you this week with a translation of Rasga O Coração, a beautiful text from Heitor Villa Lobos' Choros No. 10. The Pacific Chorale will be performing this piece at their next concert.
Rasga O Coração – Tear Open Your Heart
If you want to see the immensity of the sky
and sea reflected like a prism
of sunlight,
Tear open your heart, come and bow yourself
to the vastness of my pain.
Especially above all, (be aware) of the odor
that accompanies the thorny (spiny) flowers
of my suffering. See if you can read in
your pulsations
the white, pure illusions and that which
they say to you in your soft
groaning;
and that now.
Can I say it to you, your heartbeat! Or
I see softly, sweetly, my heart beating.
Chaste and purple in a twilight thought
More pure than a heavenly picture.
Open up to see what you have to see:
inside the pain (is) the solution:
under the weight of a cross of tears,
weeping;
angels singing little divine songs.
God has pulsated (given rhythm to) his
poor ones, alas!
Open up to what you must see. (Or, what
there is to see, or what you have
to see.)